Several weeks ago I was in the "girls toy store" known as Charming Charlie. If you do not have this mecca of accessory heaven where you live I am so sorry! Contact the corporate HQ and demand they open one for you!
The purse I had been carrying for well over a year had been a gift from a dear friend. I loved the design even though the colors were not my favorite. I got compliments on this purse everywhere I went. After to much constant use the straps were straining under the weight of my necessities.  It was past time for a new bag.
Now I love to shop, I love to window shop, love to look at pretty things. Pretty things are the flowers in the garden of life. Light in the darkness, but for me, my light has been overshadowed by the darkness of illness and the financial fallout that goes along with a serious illness, income loss, ect… Add to that the trauma of people in my life telling me not to leave the house, don't drive your car and use up your gas. Your car is going to break down, then what are you going to do? Why did you waste money on coffee, you could have made a cup at home. Ramen noodles are cheaper than Chinese takeout!
I may lean towards being more of a spender than a saver, but I am also an adult. An adult who has been through to many rainy days in the past to not be aware of the need to prepare for future storms. But it was with a heavy heart that I went through the doors of Charming Charlie determined to buy a new purse, and the negative voices in my life and in my head could just SHUT UP!
I went from color table to color table, waiting for "the one" to leap off the table at me. I finally found three that I really liked, no love at first sight, but serious "in like"!  I continued about the store, carrying all the purses with me when I saw something that did call me. It sparkled, it glittered, it whispered, "yes, YOU, come here!" I dropped all the purses and practically floated over to a table of tiara's, completely mesmerized.
My hand involuntarily went to a gorgeous piece with pearls and crystals and I picked it up. The negative voice in my head said, "don't touch that, don't even look at it, you can't afford it, you don't need it." The other voice said, "Oh it's beautiful! Put it on!"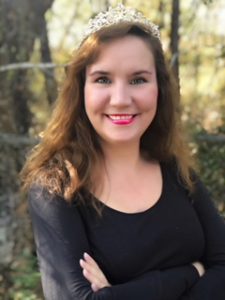 I did put it on and glided over to the full length mirror.
Another shopper stopped her browsing and looked at me with a huge smile on her face. Even in jeans and a tshirt I had suddenly become taller, my limp no longer as pronounced, my smile brighter and my eyes sparkled along with the faux jewels in this tiara. I felt STRONG.
I have not felt strong in a very long time now.  It was as if a year of medical and financial drama had melted away and I saw who I really was again.
At that moment my cell phone rang. Sure enough it was a negative voice. Wanting to know if I was okay and what was I doing? I looked at the crown and said, "I am at Charming Charlie's buying a new purse." When he asked me why I was doing that, I did not even bother with another explanation about the straps or anything else. While true, that would have been nothing more than an excuse to justify me doing what I wanted to instead of what someone else wanted me to do.  I said, "Because I want to." And that was that.
Well, not quite!
I bought the tiara too.