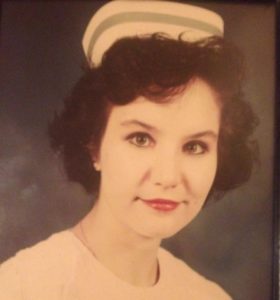 Yep, friends and sports fans, that IS me! Circa 1989. When I finally found my graduation picture after a move, my now teenaged children screamed with laughter. As for me, I look at this young lady, so full of excitement for her new career, and my mind plays memories as my heart fills with wonder and joy.
My childhood was full of stuffed animals covered in band aids, Barbie took great care of Ken, who had red sharpie wounds all over his belly from falling out of the Pink Winnebago. The neighborhood kids knew if you got a cut or some sort of wound we run to Alana's mom, who had a spectacular fist aid kit and magic, cool soft hands that healed. My father would encourage me to "be a doctor!" But no, I wanted to take care of people…
So after this cap was pinned to my head and I finally was able to wear ***drum roll*** WHITE HOSE I was finally a graduate nurse, at my first job in a large major medical center and I thought I had died and gone to heaven. I started with two of my classmates and on our orientation day we paraded around the floor with the assistant nurse manager who was a large, very imposing woman with a deep voice, a bald spot on her scalp from years of pinning a cap to her head and her white uniform glowed and shimmered.
She had just shown us the narcotic closet, explained how we were to count off keys and drugs at each shift change and the penalties for any discrepancy's found. I was all agog and thrilled with my new heavy responsibility when she locked the closet door, turned, looked me dead in the eyes and said, "Remember, all good nurses are codependent."
I smiled and nodded as I thought, "Well I have no idea what that is, but I am going to look it up and be the best one EVER!"
I have laughed a lot over this memory. The definition of codependent is "a type of dysfunctional helping relationship where one person supports or enable another person." ( short version)  Hmmmm…… When you are sick, dying, recovering from surgery or major illness don't you want a supportive helper? An enabler towards wellness? An advocate for your care?  A magical, cool soft hand to hold yours or soothe you with a touch? I do.
While I am the first to admit that in my personal life codependency was an out of control fire that helped burn a marriage to the ground in the flames of another's addiction, at work it served me well. I was able to pour my heart and soul into the care of my patients within acceptable boundaries of a professional relationship. At home I had no such boundaries to tell me when to stop, when my helpfulness had turned into manipulation. Or when it was my own pride that refused to surrender or submit.  At home I was unable to see that I was sick too, until the illness' present had become terminal.
So yes, I do believe good nurses are codependent and brilliant, smart cookies with good hearts and healthy boundaries!
For me, it all goes back to the original textbook on life and my "nurse verse":
"The king will reply, 'Truly I tell you, whatever you did for one of the least of these brothers and sisters of mine, you did for ME."        Matthew 25:40 NIV