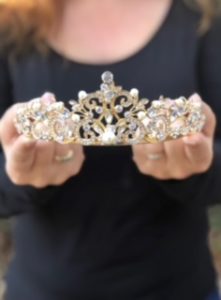 Eeeeeh….. EeeeeHHHHH….. EEEEEEHHHHH……
The alarm gets louder as you slap it, "Oh please just five more minutes!"
"I just fell asleep, it can't be time to get up."
I can't go to work/school and face those people again… I hate my job, I hate my school."
Has Sunday morning already worn off?
"For what is our hope, or joy, or crown of rejoicing? Is it not even you in the presence of our Lord Jesus Christ at his coming?" 1 Thessalonians 2:19
Yes! You are hope and joy today! You are your crown of rejoicing! You just have to choose to put it on. You might not feel like rejoicing when that alarm goes off. But the crown is on your nightstand.
In 1994 Disney released a little animated movie called, "The Lion King". You may recall that!
I had no kids in '94, but I certainly wanted to partake of the joy a new Disney film, so my best friend and I went out to dinner and to the show.
When Mufasa came back to Simba in a vision he exhorted him, "Remember Simba! REMEMBER WHO YOU ARE!" I burst out crying.
When that alarm clock is screeching and the negative thoughts start flying like darts at your battered mind, do you remember who you are?
"But YOU are a chosen generation, a royal priesthood, a holy nation, His own special people, that you may proclaim the praises of Him who called you out of darkness into His marvelous light." 1st Peter 2:9
Do you remember this? Do you live this?
Remember who you are, a royal priesthood, a holy nation, adopted children of the One True King! We should move into our days with confidence and kindness. Confident because as children of the Most High what can touch us? What evil, what misfortune, what harm can come to us that our Father can not remedy? Our kindness should come from an overflow of the kindness, grace, mercy and welcome that was shown to you at your adoption crowning. There is plenty of room at the King's table and all are welcome.
Our days should start with putting on our crowns. We need to remember this every minute of every day on this earth. And for those who's crown has slipped or is missing… we need to encourage them daily! See Hebrews 3:13.
The next time your alarm goes off, BEFORE the world's voices start yelling at you that you can't do it, that you are not good enough, don't measure up, need five more minutes before you can even try– Grab your crown off of your nightstand and put it on! Smile at your Father and say, "YES I CAN!"
"Bless the Lord O my soul, and forget not all His benefits: who forgives all your iniquities, who heals all your diseases, who redeems your life from destruction, who crowns you with lovingkindness and tender mercies…"  Psalms 103:2-4
REMEBER WHO YOU ARE!
XXOO– Alana