Dictionary.com defines "nourish" as 1. sustain with food or nutrient: supply with what is necessary for life, health and growth. 2. To cherish, foster, keep alive, ect… 3. To strengthen, build up, promote.
Nourish is also a meal planning service owned and operated by Amber Hunter of Santa Rosa Beach, Florida.
Amber's journey to the kitchens of the Emerald Coast started in central Mississippi with her Grandmother Vera. Grandma Vera had no interest in TV or play, but she was very interested in teaching her beloved granddaughter life skills and cooking was on top of that list. "Cooking IS a life skill, and one that seems to be falling by the wayside in these days of busyness." States Amber. She recalls garden fresh vegetables and shelling peas for hours with her grandmother. Amber spent most of her childhood in Vera's kitchen while her mother worked long hours as a nurse. Amber was seven years old when Vera told her that the best thing she could do to help her mother, was to prepare a good meal for her to have when she got home after such hard work. Amber was sent home with an assignment to make her mom a fresh pan of cornbread. Young Amber mistakenly used flour instead of cornmeal and baked her mother a huge buttermilk biscuit!
Amber realized that not only could she cook, but mistakes in the kitchen were not always bad! Amber laughs and said, "We sliced it like a pie and added butter. It was delicious!"
Amber went on to follow her mother into nursing. While it appealed to the nurturing part of her soul, she often went home with work undone, worried about patients and then had to face her own young family and figure out what to feed them after a long day.
Amber says, " my interest in nursing and functional medicine trained me to understand the connection between food and illness. I wanted to feed my family healthy and good meals. But as a working mom you often have to choose between time for that or your kids."
Every working mom has experienced the food battle between the frozen chicken and the pizza delivery boy! From my personal experience, unless you are an Iron Chef in full command of Kitchen Stadium the frozen chicken does not stand a chance and the pizza boy wins this fight!
Amber started planning out her family's menu and spent 2 hours "prepping" each Sunday evening. She would also get up at five am and cook a hot and healthy breakfast for her husband and sons. This was Amber's quiet time and she said she felt Grandmother's presence and Vera spoke into her heart the word, "nourish". What if Amber could not only nourish her own family but others struggling as well?
Nourish Meal Planning Service was born.
Amber now consults with clients, plans menu's to order, does the shopping, preps the food in your kitchen, stores everything you need in labeled containers. You end up with a spotless kitchen, no need for grocery runs or emergency take out and meals ready to go for the week.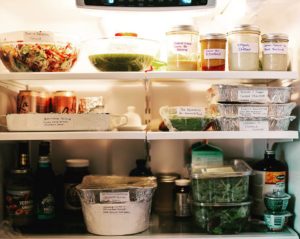 As a nurse, Amber is skilled in tweaking recipes for cardiac, diabetic, gluten-free, and other special needs diets such as specific food allergies.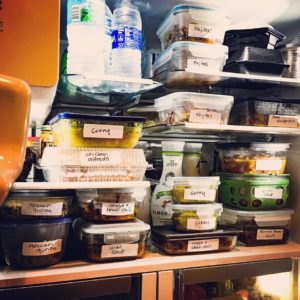 Q&A with Amber:
Alana: Amber, what is your favorite dish?
Amber: Oh I go through phases! I just got done with a Thai phase and now I am into Italian dishes. I am not afraid to try anything new. If I get a client request for something I have never done I will try it and if need be figure out how to adjust it for any restrictions.
Alana: Can you share a favorite recipe with us?
Amber: This is an easy working mom's dish– Baked Chicken Fajita's
Take 1 pound chicken, 1 red, 1 green bell pepper, 1 red onion, 1 1/2 teaspoon cumin, salt and pepper to taste and a dash of chili powder– cut it all up, toss with olive oil and bake at 400 for 35 minutes. You can serve this in warm tortilla's or for a gluten-free option use lettuce wraps.
Alana: Wow! I am going to have to try that one! Could you prepare in the morning and just toss it in the oven when you get home?
Amber: Sure, or you could even crock pot on low.
Alana: What is your favorite, must have, go to kitchen gadget or gizmo?
Amber: My Instant Pot!  I can't live without it!
Alana: What is that?
Amber: It's a combination crock pot and pressure cooker or steamer. What I love about it is that you can cook large items quickly and you do not sacrifice the integrity of the food. Especially meats.
[amazon_link asins='B01NBKTPTS' template='ProductCarousel' store='Alanakhaase1-20′ marketplace='US' link_id='6121e379-98b6-11e7-b465-1bb0a2c03808′]
Alana: Amber how does someone contact you to schedule services?
Amber: You can contact me on Facebook https://www.facebook.com/nourishmealplanning/
Or on my website http://nourishmealplanning.com/  If it's easier for you to call, the phone number and business hours are listed there.
Alana: Amber one last question, what is the most important thing you feel you are giving your clients? Time saved, money saved or health?
Amber: None of that, although it is important. The relationships I have established with my clients nourishes us both, that is the most important thing of all.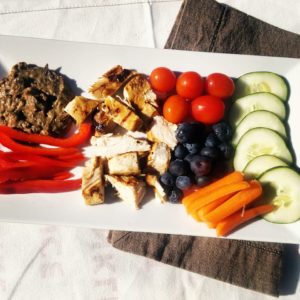 That is what I love.
I would like to credit Jackie Ward Images for the beautiful photo of Amber. Thank you Jackie!
This post also contains an affiliate link to Amazon to feature Amber's favorite kitchen gadget, The Instant Pot.