September is National Recovery Month, and as it draws to a close this week I couldn't help noticing that recovery from nature took center stage this past month. At least in my neck of the woods!  But I would still like to share with you some of the people and places who make recovery great!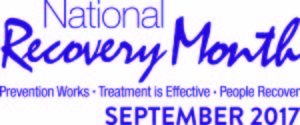 We all have something we need help overcoming, and what ever yours is: drugs, alcohol, shopping, gambling, codependency, food…there is someone out there who has been through it as well,and is willing to share their experience, strength and hope with you.
Find them online at https://iloverecovery.com/
This amazing website is full of podcasts, art, music, articles by professionals as well as laypeople who have been there and done it. There is something for everyone, every need, at this wonderful website. See you there!
One of the most prolific authors I know is Reverend Kevin Coughlin. Rev. Kevin is the co-founder and former Director of New Beginning Ministries, a residential recovery program. He is also a nationally recognized recovery coach with a huge library of material available to you at his website http://www.revkevsrecoveryworld.com/.  Rev. Kevin also has an amazing array of recovery books and materials he has written including books, journals and workbooks for professional recovery coaches. One of my favorites, as a nurse, and as a mother of teens is [amazon_link asins='0997700696′ template='ProductCarousel' store='Alanakhaase1-20′ marketplace='US' link_id='115ef9d1-a3e3-11e7-9fcc-399e8b630ca6′]
This excellent book provides parents and anyone dealing with kids the knowledge to recognize danger signs and intervene. Please check it out along with Kevin's amazing library of helpful titles.
Keeping kids safe from the living death of addiction is a passion of mine. Education and early intervention is the key and Melanie Solomon, author of "AA-Not the Only Way. Your one stop Resource guide to 12-step Alternatives", has an excellent article I urge you to bookmark and pass on to any parents with questions. http://addictionblog.org/family/how-to-help-your-child-who-is-struggling-with-an-alcohol-or-drug-problem/
Family members suffer too, addiction is an equal opportunity destroyer. But it does not have to be.  The journey can be an opportunity for growth if you let it. If you love someone with mental health or addiction issues I encourage you to reach out for recovery too. [amazon_link asins='153465268X' template='ProductCarousel' store='Alanakhaase1-20′ marketplace='US' link_id='a74af632-a3e7-11e7-b1a6-fdad50285895′]
Here are some links that may help you if you find yourself searching for recovery options and help.
http://www.aa.org/
https://www.recoverymonth.gov/
Let's let recovery be more than a month, let it be a life…